Freeland Falcons Football Fans!
This is the one where I reveal my amazing new hairdo. Last week I got my hair cut and highlighted, but I surprised Hubs with a new do...he's always begging me to get something different done (besides different shades of blond or varying lengths of long, I never do) so I surprised him.
Last Sunday I was watching "Four Christmases," which is the funniest, best Christmas movie in the world I think. And I thought, I should do my hair like Reese's!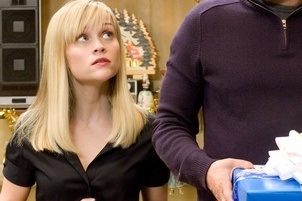 What I looked like at the salon
So I did! I loved it, my hairdresser told me I was a genius, Hubs loved it, and it's been really fun.
Then yesterday I woke up after showering the night before and it looked like this.
What it looks like at home
For real?
I actually texted K to ask what to do! By the time she replied, I'd taken a 1.5" iron to it so it improved, but was still kind of 90's looking all day.
This new hairdo thing is going to take some time...
But the 90's really are back because the boys busted out their Freeland Falcons Football sweatshirts yesterday. Hubs was the 1999 quaterback for Michigan's Class C Football state championship runners-up. He's famous. The boys received these hoodies for their first birthday, and they fit today!
So cute, and I think it's the first photo in which all 3 of my sons are smiling in the direction of the camera!
Everything old is new again...I love the 90's!